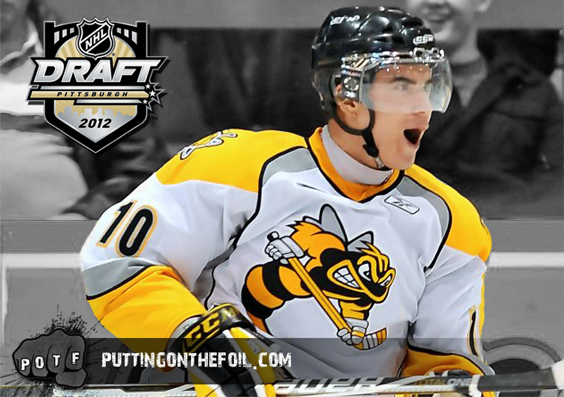 "I'm not like Bure or like Semin, Ovechkin, the whole players in the world are different and I want to be a Nail and, that's it."
–
Nail Yakupov
http://chl.uploads.mrx.ca/ohl/images/en/newser/2011/04/Yakupov_(39)0604.JPG - Original Image OHL.com
Position:
Right Wing
Shoots:
Left
Height/Weight:
5'10, 189lbs
Birthday:
October 6, 1993
Born in/Home town:
Nizhnekamsk, RUS
Yesterday the hockey gods looked down upon us and graced us with the first overall pick. Who would have guessed that? Not many. I'm sure the primary concern for yesterday's lottery is that the Oilers didn't fall in position. Low and behold we won.
I'll admit, at first I was sceptical of the thought of the Oilers drafting Nail Yakupov. I've done my homework on the other players but barely knew anything beside some stats and a few highlight videos. The draft position was announced a little more than 24hrs ago and since then I've begun to look more into Nail Yakupov. The more I find, well take a look for yourself...
---
Important Quotes
"Nail along with Alex Galchenyuk are two of the hardest working players off the ice I have seen in my 12 years with the Sting. He is constantly working on his game be it on the ice or in the gym constantly wanting to get better. In the dressing room he is a true character. Easily one of the more popular players among his teammates. He has two distinct sides to him. When it comes to hockey he is all business but outside of the game he is one of the more engaging personalities I have come across in my time in junior hockey." -
Mark Glavin
(Assistant GM of the Sarnia Sting)
Remember to take into account this guy was with the team when Steven Stamkos was in their organization.
"The passion and drive that Yakupov displays on a nightly basis is his most admirable quality. On nights where Yakupov has to earn every point and play through frustration he still competes with every inch he has. When Yakupov's teammates score, he celebrates like he did the scoring. When Yakupov earns an assist, he celebrates like it was his first ever assist. And, when Yakupov does the scoring, he celebrates like he will never score again." –
Brendan Ross
"He really gets up to top speed very quickly and his hands are outstanding. LikePavel Bure, Yakupov is dangerous every shift. He may not have been dominant on every shift like Bure was, but he created something every shift … you have to be aware where he is on the ice all the time." –
Chris Edwards
(NHL Central Scouting)
---
Nail Yakupov Quotes
"I definitely want to go to Edmonton and play for the Oilers, for sure," - Nail Yakupov
"If they draft me, I will work very hard to make the team, give it everything I've got to work hard and play for the Oilers." - Nail Yakupov (Terry Jones -
Edmonton Sun
) Props to dawgtoy for finding this!
Comparison
: "I want to be my own player; I don't compare my style to an NHL player."
Best asset:
"My bread is my legs, and I have good hands, just not as good as [teammate Alex Galchenyuk]."
Where do you need improvement:
"Can never do enough to become all-round better player."
NHL Website
"Russia win. Russia better than Canada, so... See you next time."
–
Nail Yakupov (World Juniors)
---
Statistics
Stats from Eliteprospects
http://www.eliteprospects.com/player.php?player=21228
This kid can score. At first glance, looking at his boxcars this year, it doesn't look as nearly as impressive as his first season. However he was actually putting up more points.
His first year he was scoring about 1.5 PPG and this year he was scoring 1.6 PPG. If he played the same amount of games as he did last season he'd probably finish the year at an estimated 65GP 48G 59A 107PTS As a quick comparison Yakupov has very similar numbers to Taylor Hall especially when it comes to PPG.
---
Youtube Video

I think this song is a good portrayal of Nail Yakupov.
Extra Reading
I'm sure you'll come across many more resources but here are a couple. HF boards is filled with comments, you may have to sift through quite a bit though.
http://www.nhl.com/ice/draftprospectdet ... dpid=10750
http://thehockeywriters.com/nail-yakupov-profile/